Dear Medical Clinic,
I have been going to see doctors at your facility for as many years as I have been a mother and never, ever did the receptionist say, "Oh, you will like him. He is young and cute!" to me as I handed over my co-pay and inquired to which side of the office the new doctor was located.
Never.
My response?
"Aren't they supposed to be old and hairy?"
To which the middle-aged woman with the dyed hair behind the counter just chuckled. I guess she's old enough to have her opinions, and to share them with the masses - however, it might be prudent to request that she kindly keep her trap shut about a certain doctor's "hotness" prior to his new patient meeting him for the first time. Especially if he is only one year older than said patient.
I know because
I looked him up
.
Oh well, there could be worse things than going under the knife at the skilled hands of a surgeon who looks like this, right?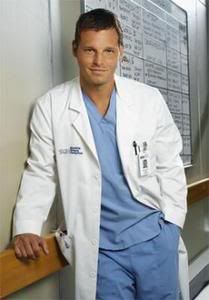 Signed,

Dr. X's New Patient

I'm having surgery tomorrow Internets, wish me luck! And yes, my doctor looks remarkably like the one Justin Chambers plays on Grey's Anatomy - but with darker hair. Go me.
-------------------------------------------------------------------
You have until midnight on the 12th to enter the book giveaway on this post!