You may have noticed that cute little piggy bank in the top right hand corner, no?
Well, in case you don't know, the fabulous Kristen Chase of
Motherhood Uncensored
has thought up a little way for us to all get through the dog days of summer and hopefully pad our wallets a little in the process, making this recession of ours seem a little less . . . like a recession.
It's called
Blog the Recession
, and you can read all about it
HERE
.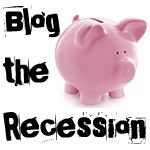 You don't have to leave a witty comment, or subscribe or anything like that. All you need to do is visit during the month of August. It's as simple as that. If you're feeling awfully generous and giving, click through someone's archives when you see that little piggy and give a little more. Simple, right?
Kristen is also giving away some awesome prizes to participants so if you haven't already, get on the band wagon and try to make the month of August a little shinier for yourself and fellow bloggers!